If you're a Modern Woodmen member, you could be eligible for a Do-Good Grant®. This creative fraternal program gives you $200 in seed money to conduct a small, hands-on volunteer project with your family and friends.
Try these member-tested projects
Bake homemade cat and dog treats for an animal shelter.


Leah's project: Leah Kelly, a member from Anaheim, California, shared her Do-Good Grant® with residents of a senior care facility she manages. Together, the group prepared batches of treats for a local animal shelter during the COVID-19 pandemic.

"We were 100 days into lockdown in California and were getting bored with puzzles and coloring books," says Leah. "It was wonderful to carve out a day to do good – not only for the shelter animals but for our residents."

Prepare activity boxes for elementary schools or day cares. Include books, art supplies, craft kits and/or toys.

Write and decorate cards with positive messages. Deliver them to a family in need, charitable organization, hospital or other recipient, or leave them around town.

Craft blankets, hats and/or scarves to donate to a shelter.

Kimberly's project: Member Kimberly Case and her Do-Good crew from Austin, Minnesota, sewed more than 100 hats for a local elementary school. Read Kimberly's story.

Volunteer to tidy up your local animal shelter. Use your grant to purchase organization items and cleaning supplies.

Remember someone special by doing a project in their honor.

Ashley's project: Member Ashley Ash from Saint Nazianz, Wisconsin, wanted to honor her father, who passed away June 2020. With her Do-Good Grant® – and some friends and neighbors – she adopted the highway in front of his farm. The group held their first highway cleanup project that October, and they plan to make it an annual tradition.

"My dad always had a willingness to help others," says Ashley. "I wanted to do something special to keep his memory alive."

Assemble hygiene bags with sanitary pads, deodorant, body wash and beauty products to donate to a teen shelter.

Purchase items from a charity's wish list. Prepare handwritten thank-you letters for the charity's volunteers to include with the donation.

Do landscaping for a local museum or historical society. Funds from the grant can help you buy plants, paint, brushes and other supplies needed for your project.

Carl's project: Member Carl Justesen and his Do-Good crew in Tooele, Utah, painted hopscotch squares, decorated planters and created display platforms for the Tooele Valley Museum and Historical Park.

"My favorite thing about the experience is knowing that families can come together and enjoy these attractions for many years," says Carl.

Decorate pet collars and sell them as a fundraiser for an animal shelter.

Plant a butterfly garden at a nearby park.

Support community beautification by planting flowers.

Juli's project: Member Juli Hughes and friends used the Do-Good Grant® to arrange potted plants along Main Street in Ackerman, Mississippi. The project helped a beautification campaign to attract visitors.

Make or order treats for a charitable organization or social service.

Put on a plant or flower sale. Donate the proceeds to a local nonprofit organization.

Purchase toys, food, litter and other essential pet care items for an animal shelter.



Brent's project: Member Brent Hopkins, his wife, Rachel, and their dog, Logan, used their Do-Good Grant® to donate dog food, puppy pads and cat toys to Lucky Paws Rescue in Springfield, Oregon. Logan was adopted from the shelter, so the project held a special place in the family's heart. Read Brent's story.
***
Ready to apply?
Log in to your member account at member.modernwoodmen.org. Find Do-Good Grant® under the Fraternal Benefits tab.
Your financial representative
Meet a Modern Woodmen representative in your community and begin to explore how shared values can work for you.
---
Find a rep near you
Need help finding a representative?
If you're unable to find a Modern Woodmen representative in your community, we'd like to help.
Contact the home office
Additional products and services
Talk to a representative to see what's best for you.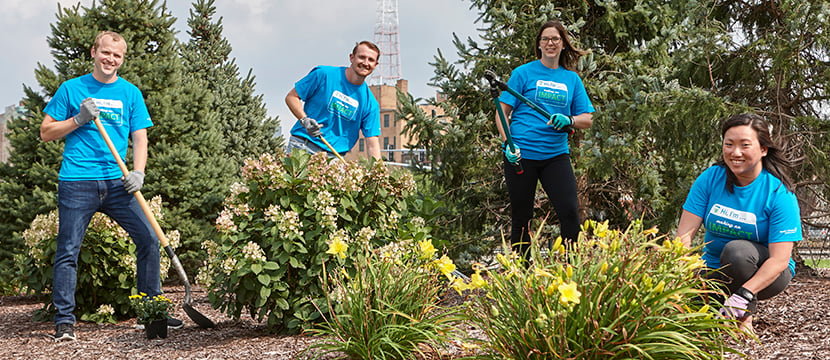 Fraternal program
Do-Good Grant®
Members can apply to receive a $200 bank card and other resources to coordinate a small-scale volunteer project with family and friends. Modern Woodmen will award up to 250 grants per year on a first-come, first-served basis.