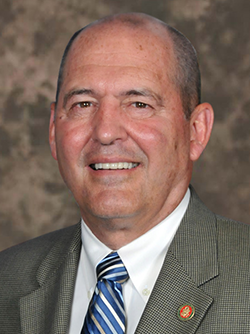 Modern Woodmen of America, Rock Island, Illinois, has appointed Sam H. Kupresin, Bettendorf, Iowa, to its board of directors, effective March 1.
A career naval aviator, retired Rear Admiral Kupresin served in many senior-level command positions during his 32 years with the U.S. Navy. Among his many career highlights, Sam commanded a patrol and reconnaissance squadron and served as department head for strategic development at Navy Pentagon. His last assignment was as deputy commander, Naval Air Forces Atlantic Fleet.
A graduate of the U.S. Naval Academy, Sam also attended Naval War College, Air Command and Staff College, Senior Officers Course Naval Strike and Air Warfare Center (Top Gun), Capstone National Defense University and the Brookings Institute Advanced Management Seminar.
After retiring from the Navy, Sam managed the Davenport and Muscatine, Iowa, municipal airports before founding Spirit Partners, a consulting company that provided guidance and manpower to defense contractors. He is currently a vice president and partner in Mandus Group Ltd., where he leads business development and strategic planning, including sales strategy development.
He is also a founding member of the Quad Cities Manufacturing Laboratory and serves on the board for IH Mississippi Valley Credit Union.
Headquartered in Rock Island, Illinois, Modern Woodmen was founded in 1883 as a fraternal benefit society. The organization supports members, families and communities with a unique blend of financial services, fraternal benefits and local-impact opportunities.
Your financial representative
Meet a Modern Woodmen representative in your community and begin to explore how shared values can work for you.
---
Find a rep near you
Need help finding a representative?
If you're unable to find a Modern Woodmen representative in your community, we'd like to help.
Contact the home office
I'm here to help
Find another representative